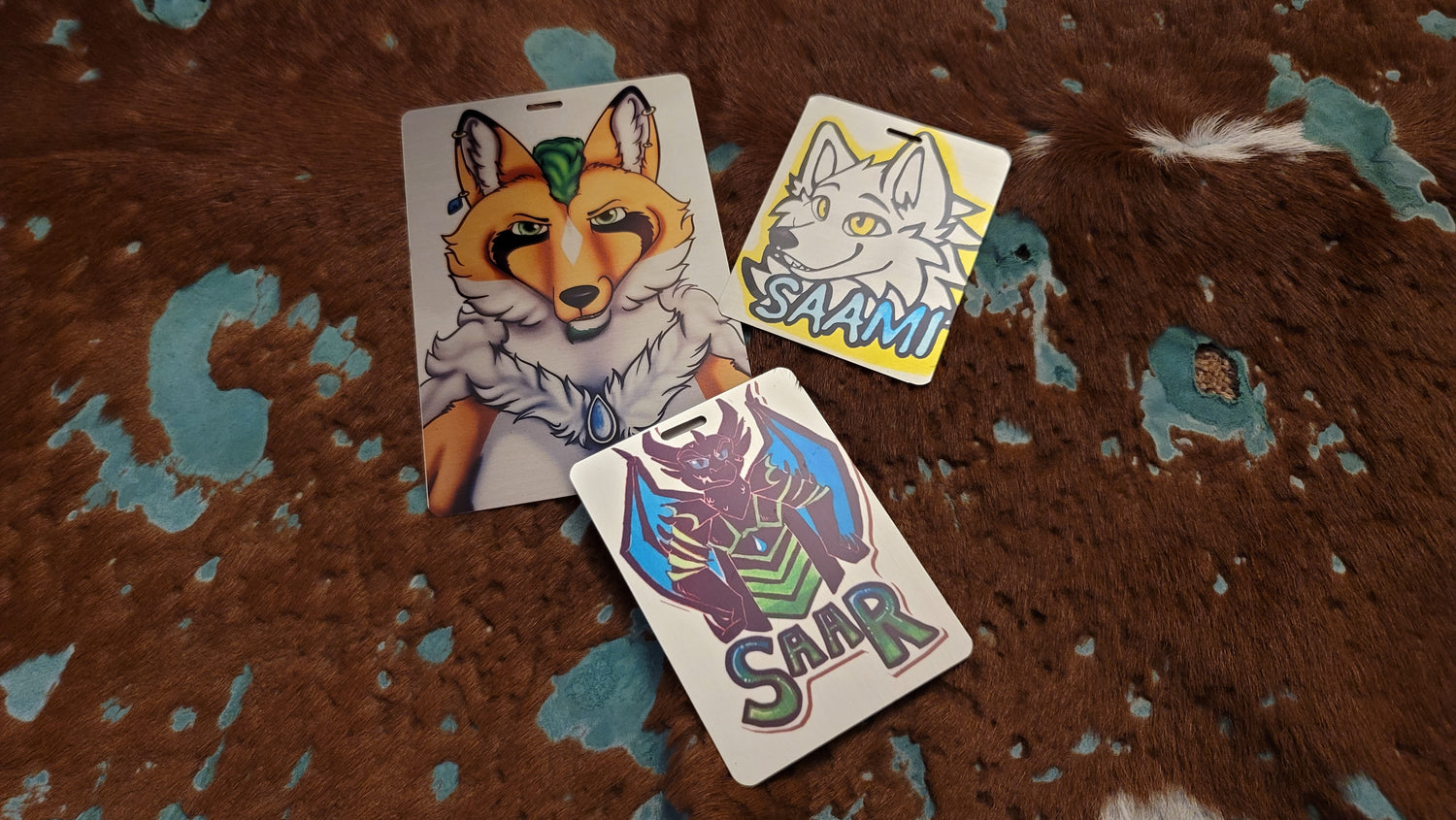 Custom Metal Print Badges
PERFECT for preserving your Fursona badge or custom artwork. Available in several different sizes and print options. (See below)
PLEASE READ THE ENTIRE WEBPAGE BEFORE SUBMITTING!!!
SUBMIT YOUR PRINT REQUEST
Size Options

Add-Ons
Double-Sided Printing

+$30 USD

We specially prep the metal to be printed on both sides and carefully print onto both the front and back of the badge.

NFC (Single-Sided ONLY)

ONLY AVAILABLE FOR SINGLE-SIDED PRINTING!

+$15 USD

We attached a programmable metal-resistant NFC chip to the back of your badge. You can use "NFC Tools", a free phone app, to program links and other useful on-the-go data.

UV Reactive

+$15 USD

ONLY FOUND WITH US!!! Currently across the US, we are the only small business that offers custom UV printed metal. The UV will be applied the Red and Yellow colors ONLY. Blue UV doesn't exist at this time.

*NOTE: Reds and Yellows WILL come out differently!
How It Works
First: Choose your artwork!
We are willing to print anything that isn't copyright protected. NSFW, Custom Fursonas, Cosplay Pictures, LARP, you name it! Keep in mind, YOU must provide the artwork. We do not provide the service of creating the artwork...at least not yet.
Second: Choose Your Size and Options!
Pick from a variety of sizes and options! Custom requests MUST be submitted via our General Commission Request form.
Third: Prep Your Image!
Artwork MUST be in CMYK! We Accept the following formats: .jpeg, .png, .tiff, .pdf, .bpm. Keep in mind a few things:
-Any transparent backgrounds will turn out silver
-White now equals silver
-UV Ink: Reds & Yellows will come out lighter and a different shade than what your image has.*
*We will send an image of the UV page before we print. There is a $3 fee for this print if the order is cancelled or if a re-print is required. We do NOT provide the service to color match.
Fourth: Click & Fill Out the Google Form!
We will review all requests within a week and send out an invoice promptly if everything looks good. If you have any questions, feel free to email us!
Fifth: Proofs & Prints!
We will send a picture of your print for your approval and if everything looks good, we will ship out!
-
*IMPORTANT NOTES*
You MUST provide a good email and pay the invoice within 7 days of it being sent out or else we will cancel the order.
We only ship to US and Canada currently. If your address is found to be a location we cannot ship to then we will cancel the order.
Shipping is typically $4 USD if you are in the US. $15 CAD for Canada. International shipping is unavailable at this time.
If you do submit a copyrighted image, we will immediately cancel the order.
Improper formatted submissions will be cancelled. We DO charge a $28USD/hr fee for any special photo modifications we have to perform on your image(s).
All order cancellations will be notified via email or whatever contact method was provided. Any order submitted without proper contact information will be cancelled.
There are no refunds or returns for these orders.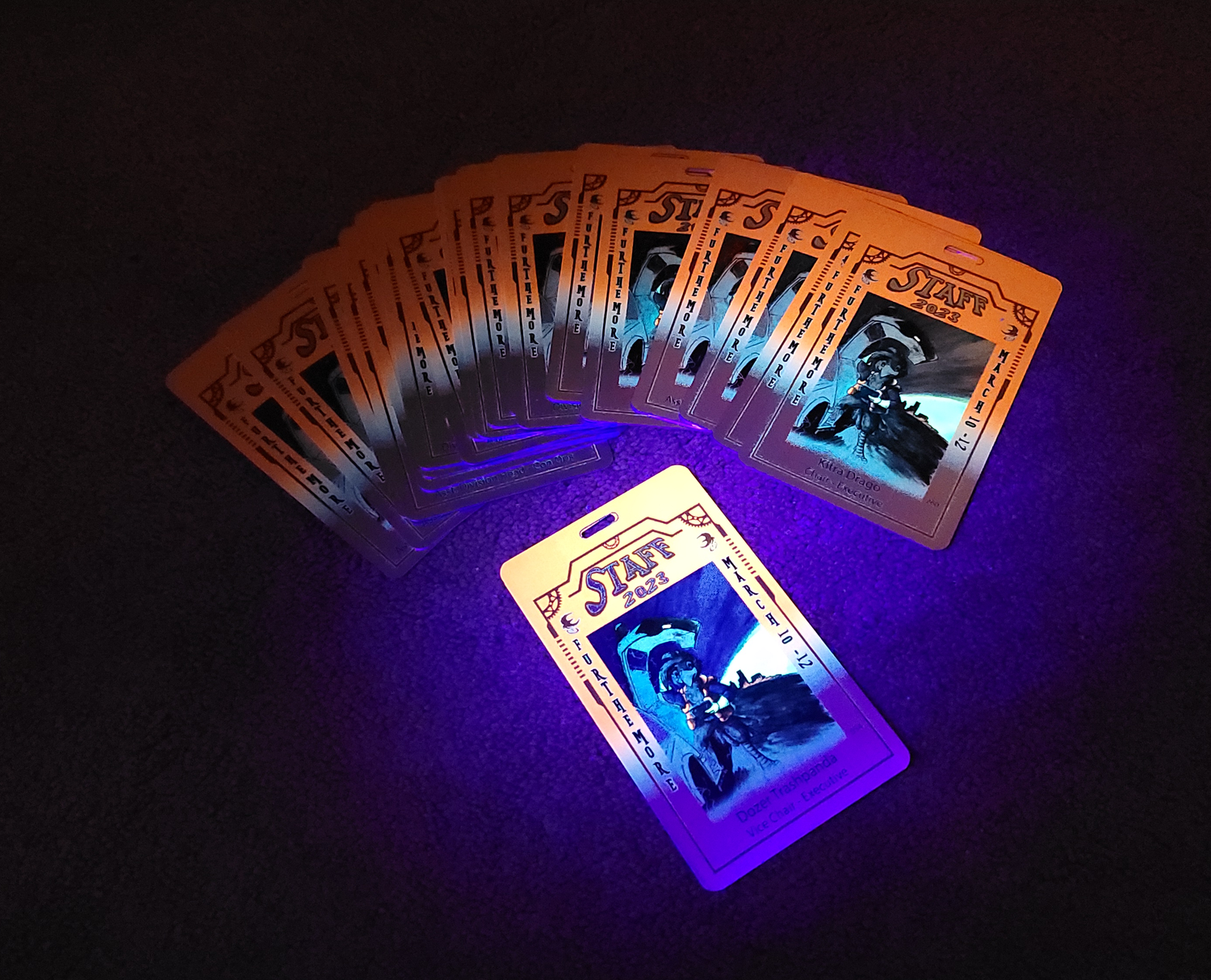 About Our Metal & Process
All of the metal prints are made from satin-silver colored recyclable aluminum. Specially coated for sublimation, we have created our own process for making these printable on multiple sides. Each print is hand-cut and hand-pressed. We take the time to make each print by hand with love and care.
Because we care so much, every order comes with a custom colored leather badge clip, on the house!*